World Broadcast Experience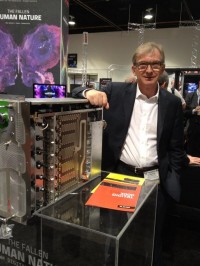 SINCE 1977, MORE THAN 40.000 FM TRANSMITTERS INSTALLED IN MORE THAN 100 COUNTRIES
Elenos is a world leader in manufacturing innovative, state-of-the-art FM transmitters. Our transmitters are widely acclaimed for their compact design, low energy consumption, and reliability. Their sound quality is excellent too.
We are a Global Company with offices and support facilities in Europe, North America and Asia and our FM transmitters are known worldwide for: 1) having the highest RF and Audio performance in the market 2) incorporating "rich" product features 3) using state-of-the-art technologies in design and in manufacturing.
With over 40,000 transmitters installed in more than 100 countries, we have a wealth of experience and a huge customer base, supporting our mission of constant innovation. Our customers include MTV, BBC, Deutche Welle, Virgin Radio, Radio Maria, Radio Italia, Alaan TV, Europa Plus, Top Albania, Vatan TV, Best FM, MBC, TNL (Sri Lanka), Next FM (Bangladesh), CPP Radionet Sonora FM and Mora FM (Indonesia), Grant Broadcasters, 2SM (Australia), UMBN, Radio Veritas, Monster (Philippines), Samyang (Korea), Military Nay Pyi Taw (Myanmar) and many more.
HOW WE GOT OUR START
Our owner, Leonardo Busi, has been an engineer and tinkerer his whole life. When he was a teenager he built two cars completely from scratch – no kit involved. Deciding to turn his engineering talent to building radio equipment, he sold his cars to raise money to fund his purchase of Elenos. That was over 35 years ago (1977) and today he continues to build, tinker, and innovate.
Leonardo has built Elenos around a team of engineers from varied backgrounds. The result has been a heritage of creativity and innovation unmatched in the industry, all driven by a passion for making the best products on the market.
A PASSION FOR ENERGY EFFICIENCY
In recent years we've focused much of that passion on energy efficiency, thanks in part to the investment we made in Planar technology. Elenos has become an industry leader in developing the most compact and energy efficient transmitters. In fact, we're such a believer in energy efficiency that we recently converted one of our factories to solar power.
DEDICATION TO CUSTOMERS
We have grown throughout the years because of the loyalty of our customers. Although our transmitters may have changed designs throughout the years, two things has remained constant:
1) our mission is to create and deliver the most reliable transmitters in the world;
2) our customers are happy and return!